Mark Zuckerberg, in full Mark Elliot Zuckerberg, (born May 14, 1984, White Plains, New York, U.S.), American computer programmer who was cofounder and CEO (2004– ) of Facebook, a social networking Web site. After attending Phillips Exeter Academy, Zuckerberg enrolled at Harvard University in 2002.
When facebook Was Launched?
Facebook is a social networking service launched as TheFacebook on February 4, 2004. It was founded by Mark Zuckerberg with his college roommates and fellow Harvard University students Eduardo Saverin, Andrew McCollum, Dustin Moskovitz and Chris Hughes. The website's membership was initially limited by the founders to Harvard students, but was expanded to other colleges in the Boston area, the Ivy League, and gradually most universities in the United States and Canada, corporations, and by September 2006, to everyone with a valid email address along with an age requirement of being 13 and older.
The first look of Facebook looks like this: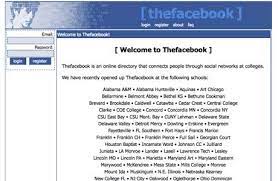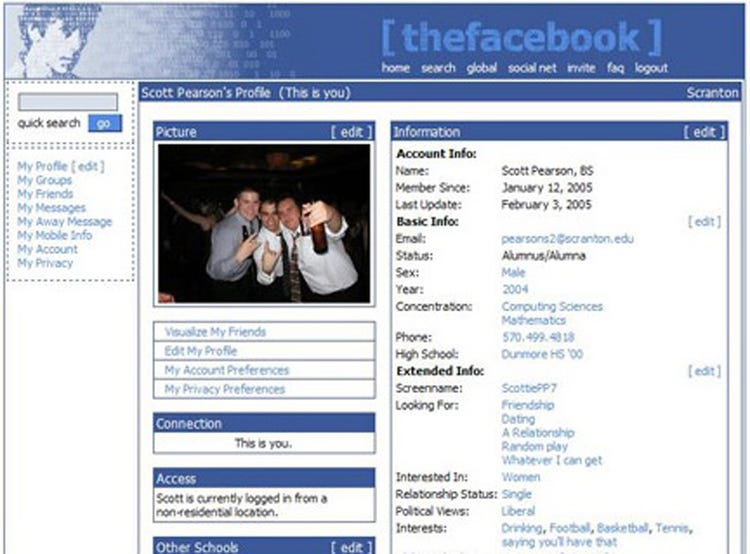 Facemash
FaceMash, Facebook's predecessor, opened in 2003, developed by Mark Zuckerberg; he wrote the software for the Facemash website when he was in his second year of college. The website was set up as a type of "hot or not" game for Harvard students. The website allowed visitors to compare two female student pictures side by side and let them decide who was more attractive.
While writing the software, Mark Zuckerberg wrote the following blog entries:
I'm a little intoxicated, not gonna lie. So what if it's not even 10 p.m. and it's a Tuesday night? What? The Kirkland [dorm] facebook is open on my desktop and some of these people have pretty horrendous facebook pics. I almost want to put some of these faces next to pictures of farm animals and have people vote on which is more attractive.— 9:48 pm
Yea, it's on. I'm not exactly sure how the farm animals are going to fit into this whole thing (you can't really ever be sure with farm animals …), but I like the idea of comparing two people together.— 11:09 pm
According to The Harvard Crimson, Facemash used "photos compiled from the online facebooks of nine Houses, placing two next to each other at a time and asking users to choose the "hotter" person". Facemash attracted 450 visitors and 22,000 photo-views in its first four hours online.
First Funding of Facebook
In 2004, June Facebook receives its first investment from Peter Thiel for US$500,000.
Growth of Facebook
With the Zuck at the helm full-time, Facebook continued its expansion plans. In December Australian and New Zealand universities were included, along with high schools from Mexico, the UK, and Ireland. That meant there were now 2,500 colleges and 25,000 high schools with access to Facebook.
It wasn't until September 2006 when the platform became open for everyone (well, anyone over 13 with a valid email address). Facebook had now gone fully global. We also started to see the rate of membership growth:
December 2006: 12m
April 2007: 20m
July 2007: 30m
October 2007: 50m
In May 2007, Facebook open their Marketplace, which lets users post classifieds to sell products and services. It also saw the launch of the Facebook Application Developer platform, opening the gates for developers to create their own applications and games that integrated with Facebook.
The platform was also looking beyond personal profiles to how businesses could use the site. By the end of 2007 over 100,000 companies had signed up, with Facebook launching Pages for Businesses to support this. Already they're making plans to build on existing ad revenue to make advertising on the platform accessible to even the smallest of businesses.
Then in 2008 we see a huge release from Facebook. April, 2008 saw Facebook Chat roll out, allow us to more instantly annoy our friends and family. Essentially, the concept is no different to ZuckNet. We also see the People You May Know, Facebook Wall, and Facebook Connect released in the same year.
Meanwhile the user count continues to grow:
August, 2008: 100m
January, 2009: 150m
February 2009: 175m
April, 2009: 200m
July, 2009: 250m
September, 2009: 300m
We also saw one of the big Facebook games appear. Farmville was released in June, 2009 and, despite being a rip off of a game called Farm Town, became a huge success. By August it had 10m daily active users. So, so much virtual corn.
Today we all use FACEBOOK but not only we use facebook in today's world we are also using Instagram, Whatsapp and other Applications. We are talking here how facebook buys Instagram & Whatsapp.
About Instagram
Instagram (commonly abbreviated to IG or Insta) is an American photo and video sharing social networking service owned by Facebook, created by Kevin Systrom and Mike Krieger and originally launched on iOS in October 2010. The Android version was released in April 2012, followed by a feature-limited desktop interface in November 2012, a Fire OS app in June 2014, and an app for Windows 10 in October 2016. The app allows users to upload media that can be edited with filters and organized by hashtags and geographical tagging. Posts can be shared publicly or with pre-approved followers. Users can browse other users' content by tags and locations and view trending content. Users can like photos and follow other users to add their content to a feed, a function that seems to be discontinued as of September 2020.
Facebook Buys Instagram
Instagram has become a key fixture of Facebook's growth. Facebook bought the photo-sharing start-up for $1 billion in 2012, paying what seemed like a shocking sum of $1 billion for a company with 13 employees at the time.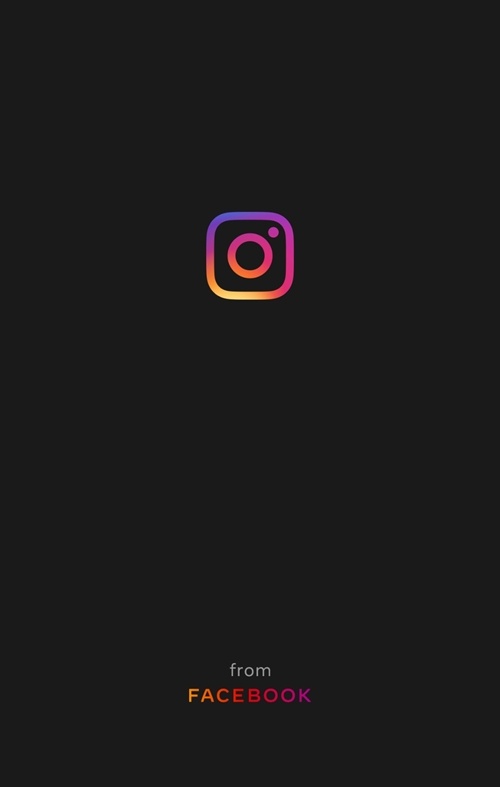 Now, Instagram has more than 1 billion monthly users, including 500 million daily users of the Stories feature, which was introduced in 2016 to compete against a popular feature of the same name from Snapchat. That growth has resulted in Instagram being valued by analysts at more than $100 billion, or about one-fifth of Facebook's total market cap.
About WhatsApp
WhatsApp Messenger, or simply WhatsApp, is an American freeware, cross-platform messaging and Voice over IP (VoIP) service owned by Facebook, Inc. It allows users to send text messages and voice messages, make voice and video calls, and share images, documents, user locations, and other media. WhatsApp's client application runs on mobile devices but is also accessible from desktop computers, as long as the user's mobile device remains connected to the Internet while they use the desktop app. The service requires users to provide a standard cellular mobile number for registering with the service. In January 2018, WhatsApp released a standalone business app targeted at small business owners, called WhatsApp Business, to allow companies to communicate with customers who use the standard WhatsApp client.
Facebook Buys Whatsapp
Facebook announced its plans to acquire WhatsApp in February 2014, WhatsApp's founders attached a purchase price of $16 billion: $4 billion in cash and $12 billion remaining in Facebook shares. This price tag is dwarfed by the actual price Facebook paid: $21.8 billion, or $55 per user.
Facebook agreed to pay $19.6 billion—adding $3.6 billion to the original price as compensation to WhatsApp employees for staying on board at Facebook. However, Facebook share prices soared to $77.56 from $68 by the time the regulatory approval process concluded in October. By then, the agreed upon 184 million Facebook shares inflated the final sale price by an additional $1.7 billion. 
Lawsuits involving Facebook
Facebook, Inc. has been involved in multiple lawsuits since its founding.
1. ConnectU.com lawsuit
Divya Narendra, Cameron Winklevoss, and Tyler Winklevoss, founders of the social network ConnectU, filed a lawsuit against Facebook in September 2004. The lawsuit alleged that Zuckerberg had broken an oral contract to build the social-networking site, copied the idea, and used source code that they provided to Zuckerberg to create competing site Facebook. Facebook countersued in regards to Social Butterfly, a project put out by The Winklevoss Chang Group, an alleged partnership between ConnectU and i2hub. It named among the defendants ConnectU, Cameron Winklevoss, Tyler Winklevoss, Divya Narendra, and Wayne Chang, founder of i2hub. The parties reached a settlement agreement in February 2008, for $20 million in cash and 1,253,326 Facebook shares. On August 26, 2010, The New York Times reported that Facebook shares were trading at $76 per share in the secondary market, putting the total settlement value now at close to $120 million.
ConnectU filed another lawsuit against Facebook on March 11, 2008, attempting to rescind the settlement, claiming that Facebook, in settlement negotiations, had overstated the value of stock it was granting the ConnectU founders as part of the settlement. ConnectU argued that Facebook represented itself as being worth $15 billion at the time, due to the post-money valuation arising from Microsoft's purchase in 2007 of a 1.6% stake in Facebook for US $246 million. Facebook announced that valuation in a press release. However, Facebook subsequently performed an internal valuation that estimated a company value of $3.75 billion. ConnectU then fired the law firm Quinn Emanuel that had represented it in settlement discussions. Quinn Emanuel filed a $13 million lien against the settlement proceeds and ConnectU sued for malpractice. On August 25, 2010, an arbitration panel ruled that Quinn Emanuel had "earned its full contingency fee". It also found that Quinn Emanuel committed no malpractice. ConnectU's lawsuit against Facebook to quadruple its settlement remains ongoing.
2. Aaron Greenspan and houseSYSTEM
Aaron Greenspan created a web portal as an undergraduate called houseSYSTEM that launched in August 2003. Two weeks after launching Harvard became aware that houseSYSTEM was asking for students' Harvard network credentials in violation of the school's policy, and ordered Greenspan to shut the site down immediately. Greenspan was required to turn over a list of students so the administration could reset their passwords, with the threat of disciplinary action if he failed to comply.
Seven months after the initial launch of houseSYSTEM Greenspan added a new social networking module called FaceNet to compete with Facebook, telling the Harvard Crimson, "It is possible for multiple sites to co-exist. [We support] entrepreneurship, and we applaud Mark's efforts. Competition is a very real part of entrepreneurship". However, students who had tried both websites expressed doubts about Greenspan's website noting that "FaceNet isn't as easy to use as thefacebook.com. It might be too little, too late. It will be hard to compete with thefacebook.com when thefacebook.com already has about 5,000 members and lots of momentum".
In 2006, two years after Mark Zuckerberg launched thefacebook.com, Greenspan claimed in an open letter to Zuckerberg that Facebook used features that originally belonged to houseSYSTEM. Regarding Greenspan's allegations, years later Zuckerberg was described in The New York Times as "saying through a spokeswoman that he was not sure how to respond". Greenspan later filed a Petition to Cancel the "Facebook" trademark at USPTO. Facebook, Inc. agreed to a formal settlement with Greenspan in late May 2009 and issued a press release, but the terms were not disclosed.
3. 2009 class action lawsuit
On November 17, 2009, Rebecca Swift, on behalf of herself and all others similarly situated, filed a class action lawsuit against Zynga Game Network Inc. and Facebook, Inc. in the United States District Court for the Northern District of California for violation of the Unfair competition law and the Consumers Legal Remedies Act, and for unjust enrichment.
4. Paul Ceglia
On June 30, 2010, Paul Ceglia, the owner of a wood pellet fuel company in Allegany County, New York, filed a lawsuit against Zuckerberg, claiming 84% ownership of Facebook as well as additional monetary damages. According to Ceglia, he and Zuckerberg signed a contract on April 28, 2003, that for an initial fee of $1,000, entitles Ceglia to 50% of the website's revenue, as well as additional 1% interest per each day after January 1, 2004, until website completion. Zuckerberg was developing other projects at the time, among which was Facemash, the predecessor of Facebook, but did not register the domain name thefacebook.com until January 1, 2004. Facebook management has dismissed the lawsuit as "completely frivolous". Facebook spokesman Barry Schnitt issued a statement indicating that the counsel for Ceglia had unsuccessfully attempted to seek an out-of-court settlement. In an interview to ABC World News, Zuckerberg stated he is confident of never signing such an agreement. At the time, Zuckerberg worked for Ceglia as a code developer on a project named "StreetFax". Judge Thomas Brown of Allegany Court issued a restraining order on all financial transfers concerning ownership of Facebook until further notice; in response, Facebook management successfully filed for the case to be moved to federal court. According to Facebook, the order does not affect their business but lacks legal basis.
5. Young v. Facebook, Inc.
In Young v. Facebook, Inc., plaintiff Karen Beth Young alleged violations of the Americans with Disabilities Act and related state laws on disability as well as breach of contract and negligence. A District Court judge dismissed the complaint, ruling that Facebook is a website, not a physical place, so the Americans with Disabilities Act does not apply.
6. Lane v. Facebook, Inc.
In March 2010, Judge Richard Seeborg issued an order approving the class settlement in Lane v. Facebook, Inc. This lawsuit charged that user's private information was being posted on Facebook without consent using Facebook's Beacon program.
7. Fraley v. Facebook, Inc.
Fraley v. Facebook, Inc. was a class-action case that alleged that Facebook had misappropriated users' names and likenesses in advertisements. The case settled in 2013, with checks to class members mailed in November 2016.
8. FTC antitrust lawsuit
On December 8, 2020, the Federal Trade Commission, along with 46 US states (excluding Alabama, Georgia, South Carolina, and South Dakota), the District of Columbia and the territory of Guam, launched an antitrust lawsuit against Facebook. The lawsuit concerns Facebook's acquisition of two competitors – Instagram and WhatsApp – and the ensuing monopolistic situation. FTC alleges that Facebook holds monopolistic power in the US social networking market and seeks to force the company to divest from Instagram and WhatsApp to break up the conglomerate.
Max Schrems
Maximilian Schrems is an Austrian activist and author who became known for campaigns against Facebook for its privacy violations, including violations of European privacy laws and the alleged transfer of personal data to the US National Security Agency (NSA) as part of the NSA's PRISM program. Schrems is the founder of NOYB – European Center for Digital Rights.
Facebook Privacy Issue
Facebook will pay a record $5bn fine to settle privacy concerns, the US Federal Trade Commission (FTC) has said. The FTC had been probing allegations political consultancy Cambridge Analytica improperly obtained the data of up to 87 million Facebook users.
Criticism of Facebook
Criticism of Facebook has led to international media coverage and significant reporting of its legal troubles and the outsize influence it has on the lives and health of its users and employees, as well on its influence on the way media, specifically news, is reported and distributed. Notable issues include Internet privacy, such as use of a widespread "like" button on third-party websites tracking users, possible indefinite records of user information, automatic facial recognition software, and its role in the workplace, including employer-employee account disclosure. The use of Facebook can have negative psychological effects that include feelings of jealousy and stress, a lack of attention, and social media addiction that in some cases is comparable to drug addiction.
Facebook's operations have also received coverage. The company's electricity usage, tax avoidance, real-name user requirement policies, censorship policies, handling of user data, and its involvement in the United States PRISM surveillance program have been highlighted by the media and by critics. Facebook has come under scrutiny for 'ignoring' or shirking its responsibility for the content posted on its platform, including copyright and intellectual property infringement, hate speech, incitement of rape and terrorism, fake news, Facebook murder, crimes, and violent incidents live-streamed through its Facebook Live functionality.
The company and its employees have also been subject to litigation cases over the years, with its most prominent case concerning allegations that CEO Mark Zuckerberg broke an oral contract with Cameron Winklevoss, Tyler Winklevoss, and Divya Narendra to build the then-named "HarvardConnection" social network in 2004, instead allegedly opting to steal the idea and code to launch Facebook months before HarvardConnection began. The original lawsuit was eventually settled in 2009, with Facebook paying approximately $20 million in cash and 1.25 million shares. A new lawsuit in 2011 was dismissed. Some critics make predictions of Facebook's end based on the problems which they identify.
Facebook has been banned by several governments for various reasons, including Syria, China, and Iran.